We show you 3 beautiful bike tours in Gran Canaria that you shouldn't miss.

Gran Canaria, the picturesque Spanish island nestled in the Atlantic Ocean, isn't only a haven for beach lovers but also a paradise for cycling enthusiasts. With its diverse landscapes, challenging terrains, and pleasant weather, Gran Canaria has emerged as a top destination for both road and mountain biking. 
In this guide, we'll explore why cyclists should travel to this island. We'll have a look at the top cycling routes in Gran Canaria, frequently asked questions, the best hotels for cycling, mention the most important events and more. Let's get it started!
Why cyclists should consider cycling on Gran Canaria
Gran Canaria's allure for cyclists lies in its diverse topography. From rugged mountains to serene coastal roads, the island offers a variety of terrains suitable for all skill levels. Furthermore, the pleasant climate, with average temperatures ranging from 17 to 25 degrees Celsius throughout the year, makes it an ideal destination for cycling at any time. 
On top of that, the island's infrastructure is cyclist-friendly, with well-maintained roads, numerous cycling lanes, and a supportive community that welcomes riders from around the world.
Top Gran Canaria cycling routes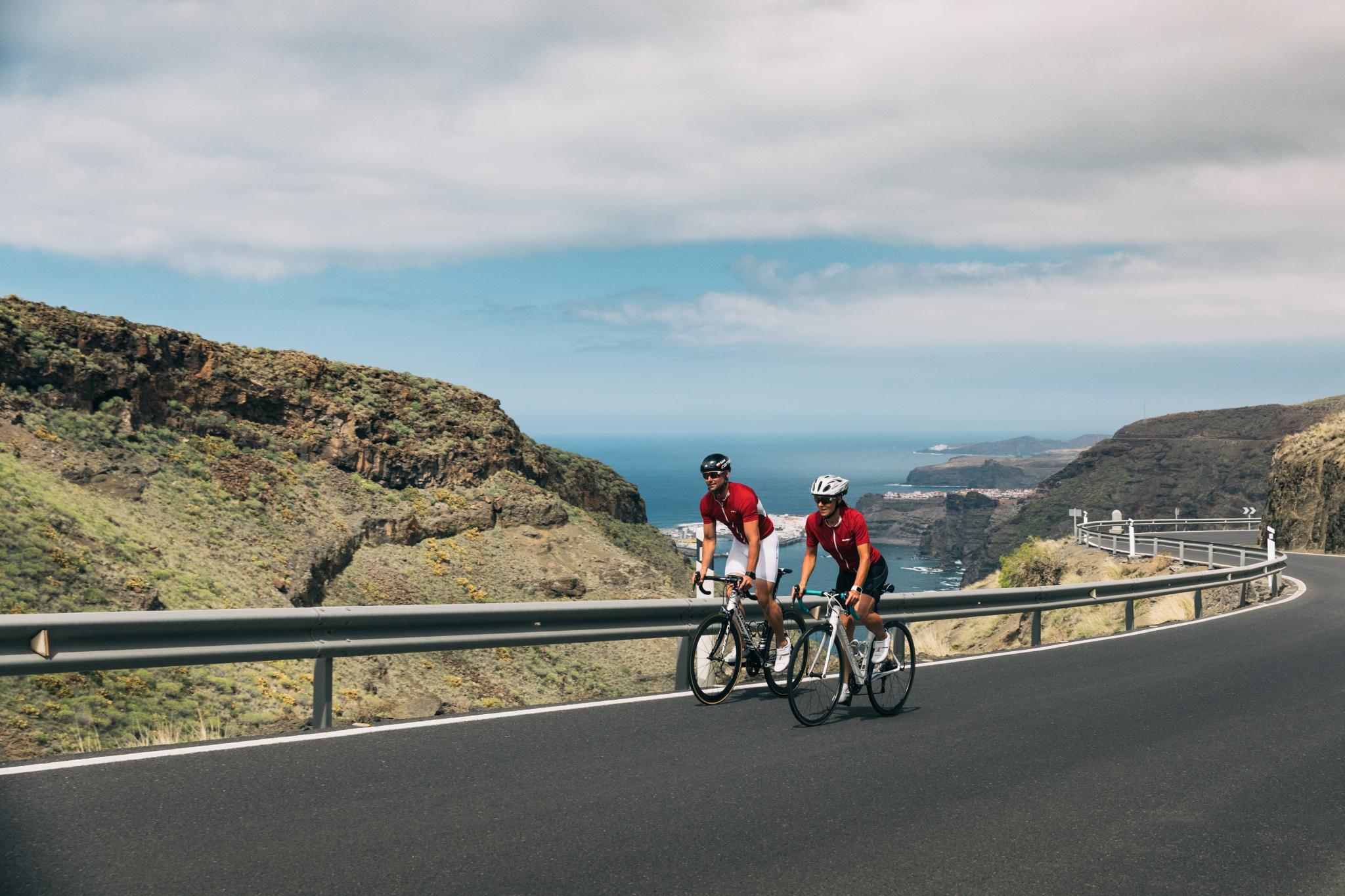 Now, we'll introduce you to the most popular cycling routes on Gran Canaria for both mountain biking and street cycling.
Mountain Bike Routes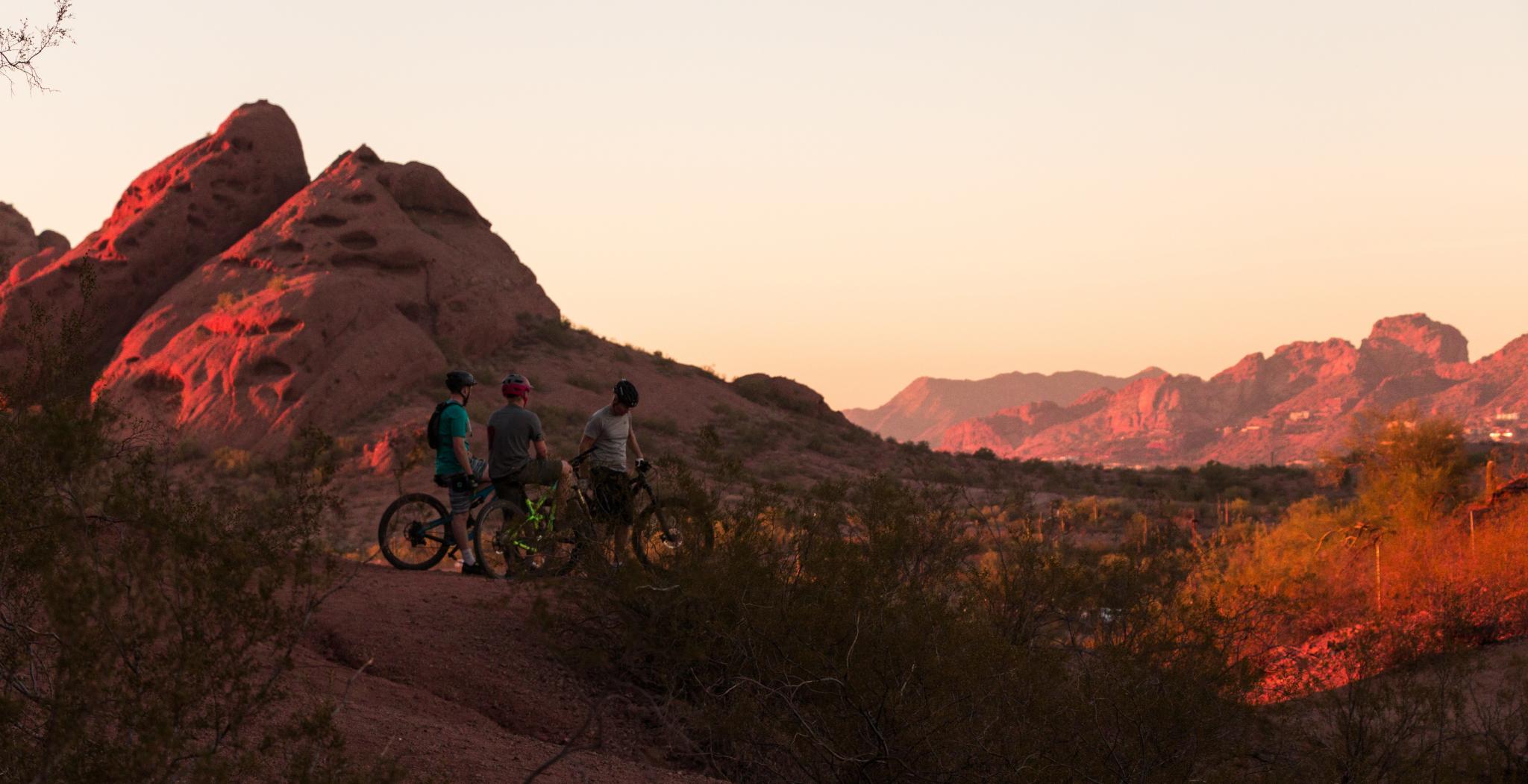 The mountains of Gran Canaria shouldn't be missed on your visit to this cycling paradise. Grab your mountain bike and let's go on a ride! Here are the most popular routes around and to the mountains of Gran Canaria:


Valley of the Tears

(GC606): Aptly named, this challenging route takes cyclists through the heart of the island, offering breathtaking views and steep ascents. The winding trails and rocky paths make it a favourite among experienced mountain bikers. It's one of the hardest climbs in Europe with 25km of ascent and ramps of 15%. On top of that, it's really remote, so consider a support car.



TauroPass

(GC605): This route combines technical descents with exhilarating climbs, leading riders through the stunning Tauro Valley. With varied terrain, it promises an adventurous and memorable mountain biking experience. Also known as Serenity Climb, it's one of the most beautiful routes on the island. But it can also be challenging.



Soria Climb

(GC505): For those seeking a balance of challenge and scenery, the Soria Climb is a must-try. This route takes cyclists through the pine forests of Soria, with a mix of steady climbs and thrilling descents. This route isn't too difficult and it takes you from Arguineguín straight to a restaurant in Soria.



Ayagaures

(GC504): Known for its diverse landscapes, Ayagaures offers a mix of dirt trails, gravel paths, and challenging climbs. Cyclists can enjoy the solitude of nature while tackling the twists and turns of this captivating route. It's a rather short route which takes you into the desert mountainscapes of the south of Gran Canaria.



Pico de Las Nieves

(via GC60/Fataga): As one of the

highest points on the island

, reaching Pico de Las Nieves is a rewarding achievement. The route via GC60/Fataga takes riders through picturesque villages and offers panoramic views of the surrounding landscapes. It's another one of the famous routes on Gran Canaria, being 48km long, it's rather hard but the views are definitely worth it.



Road Bike Routes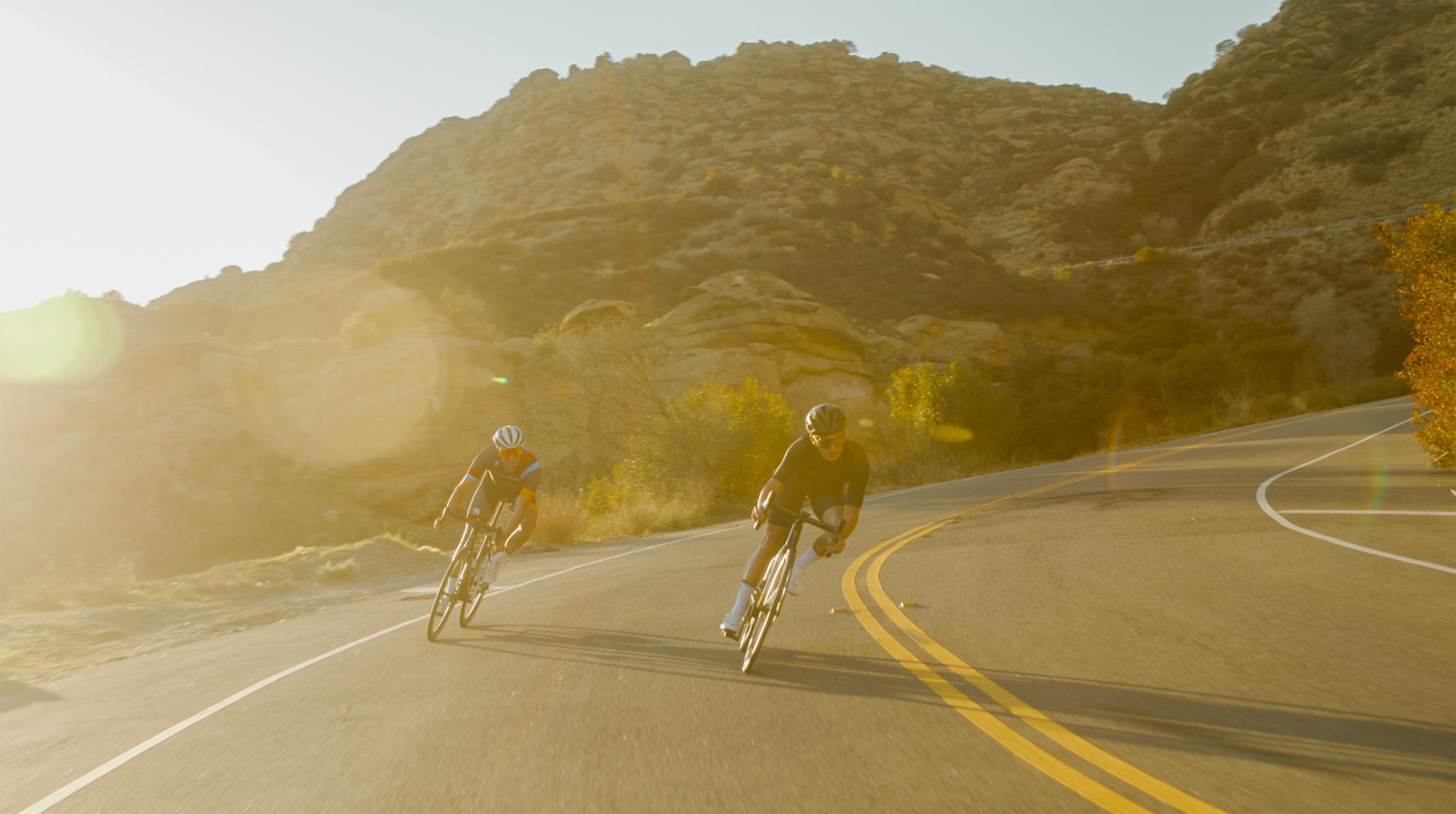 Fataga Climb

(on GC60): A challenging ascent, the Fataga Climb is a favorite among road cyclists. The route showcases the island's diverse scenery, from rocky canyons to lush greenery, providing a visually stunning backdrop for the ride.



Pico de Las Nieves

(via GC65/Santa Lucia): This road cycling route combines steady climbs with sweeping descents. The journey to Pico de Las Nieves via GC65/Santa Lucia offers a mix of challenging terrain and breathtaking vistas.



Pico De Las Nieves

(via GC130/Ingenio): For those seeking a longer and more gradual ascent, the route via GC130/Ingenio to Pico de Las Nieves is an excellent choice. The well-maintained roads and stunning landscapes make it a memorable road cycling experience.



Easy Gran Canaria Cycling Routes
If you're a cycling beginner, we recommend you these 3 easy routes, specially popular with families with children.


Maspalomas to Meloneras

: This scenic coastal route is perfect for cyclists of all levels. The flat terrain, combined with ocean views, provides a leisurely and enjoyable ride.



Agaete to Puerto de las Nieves

: A relatively easy route, this coastal ride offers stunning sea views and a charming atmosphere. Cyclists can explore the picturesque town of Agaete before heading to Puerto de las Nieves.



Mogan to Puerto Rico

: With a gentle coastal path, the route from Mogan to Puerto Rico is suitable for beginners. The ride offers beautiful views of the ocean and surrounding landscapes, making it a delightful cycling experience.



Rules of the Road on Gran Canaria
Cyclists on Gran Canaria must adhere to traffic rules and regulations. Riding on designated cycling lanes is recommended whenever available. Helmets are mandatory, and cyclists should be cautious while navigating winding mountain roads. Respect for pedestrians and fellow cyclists is paramount, ensuring a safe and enjoyable experience for everyone.
Frequently Asked Questions about Cycling on Gran Canaria
Is Gran Canaria suitable for beginners?
Yes, Gran Canaria caters to cyclists of all levels. While some routes are challenging, there are plenty of easy and scenic paths suitable for beginners. The island's diverse terrain ensures that cyclists can find routes that match their skill and fitness levels.
How fit do I need to be for cycling on Gran Canaria?
The fitness level required depends on the chosen route. Beginners can opt for flat coastal paths, while experienced cyclists may challenge themselves with steep mountain climbs. Training for endurance and hill climbing is recommended for those tackling more challenging routes.
Which are the best hotels for cyclists on Gran Canaria?
Dunas Hotels & Resorts stands out as a cyclist-friendly accommodation option on the island. With facilities catering to the needs of cyclists, including secure bike storage and maintenance tools, Dunas Hotels ensures a comfortable stay for biking enthusiasts.
Bike Rental Gran Canaria
For those without their own bikes, FreeMotion in Dunas Hotels provides quality bike rental services. Offering a range of road and mountain bikes, FreeMotion ensures that visitors can explore Gran Canaria on two wheels without the need to bring their own equipment.
What's the weather usually like in Gran Canaria?
Gran Canaria boasts a mild climate throughout the year. Average temperatures hover between 17 and 25 degrees Celsius, making it a perfect destination for cycling at any time. However, cyclists should be prepared for varying conditions, especially in mountainous areas where temperatures can drop.
Are there important bike or cycling events on Gran Canaria?
Yes! Gran Canaria is well known for its Bike Week. Find out more about this event here.
Gran Canaria: the paradise for cyclists
In conclusion, Gran Canaria emerges as a cycling haven, offering a diverse range of routes for both mountain and road biking. From challenging ascents to leisurely coastal paths, the island caters to cyclists of all levels. With cyclist-friendly accommodations, reliable bike rental services, and a pleasant year-round climate, Gran Canaria stands as an ultimate destination for those seeking a thrilling and rewarding cycling experience.