Enjoy the Day of Love in Gran Canaria.

There is very little left for the most romantic day of the year to arrive, a date loved by couples and not so appreciated by singles. If you're in love, you should keep this February 14th on your mind, especially due to the plans for Valentine's Day in Gran Canaria that we have prepared for you to leave your soul mate speechless.
Enjoying walks along unique beaches, hiking through legendary forests, eating at first class restaurants or looking at the stars in one of the clearest skies in the world are just some of the plans that will make you feel that love can last forever. And you, how will you surprise your better half on our island?
Best charming plans for Valentine's Day in Gran Canaria
To celebrate this very different Valentine's Day, in which masks and social distancing greatly complicate emotional relationships, the island offers many plans and places to share the best experiences as a couple.
Spend a unique night at Dunas Hotels & Resorts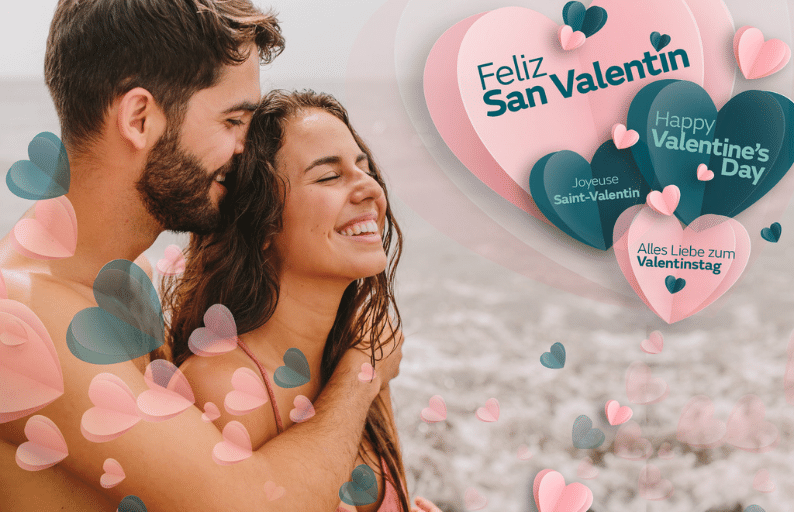 They say that for romance, the place doesn't matter, but... surely that surprising your partner with a movie-like sunset from a room overlooking the sea gives you extra points, don't you think? And also giving yourself to the pleasure of exploring new flavours or taking the opportunity to practice a bit of wellness tourism.
At Dunas Hotels & Resorts we want you to have a happy Valentine's Day, so we have launched an irresistible offer for you to experience unforgettable moments with your partner on this special day.
But it doesn't end there, because in this promotion valid from 11/02/2022 until 20/02/2022 and exclusive for guests staying at our establishments we also offer you:


Welcome gift with a bottle of champagne, chocolates and a romantic candle.


Romantic dinner for two.


Breakfast in the room.


One 30-minute massage per person (on request at least 10 days in advance and subject to availability).


Late check-out (14:00).


It doesn't matter if it's to celebrate this special date or enjoy greater intimacy, there is no doubt that Valentine's Day is perfect to enjoy to the fullest with the love of your life in a charming hotel in Gran Canaria.
Poemas by Hermanos Padrón, the perfect setting for an intimate dinner in Gran Canaria
The restaurant Poemas by Hermanos Padrón, one of the most important names in contemporary Canarian cuisine, it's a surprise that's well worth enjoying an intimate experience for two.
Its name originates from "Poemas de los elementos", an unfinished project by Gran Canarian modernist artist Néstor de la Torre, a true symbol of the archipelago and reflected in the artistic and culinary aspects that merge on the plate with an avant-garde spirit.
This dazzling space, the first with a MICHELIN Star in Gran Canaria, has a cuisine with island roots, connoisseur of the product that fits the city of Las Palmas de Gran Canaria like a glove.
The establishment surprises with its refined interior design, with a classic spirit and a profusion of wood. It offers a menu and a tasting menu that share dishes with each other, unfolding an interesting journey through different countries and continents.
Observing the stars as a couple from Roque Nublo, the natural symbol of Gran Canaria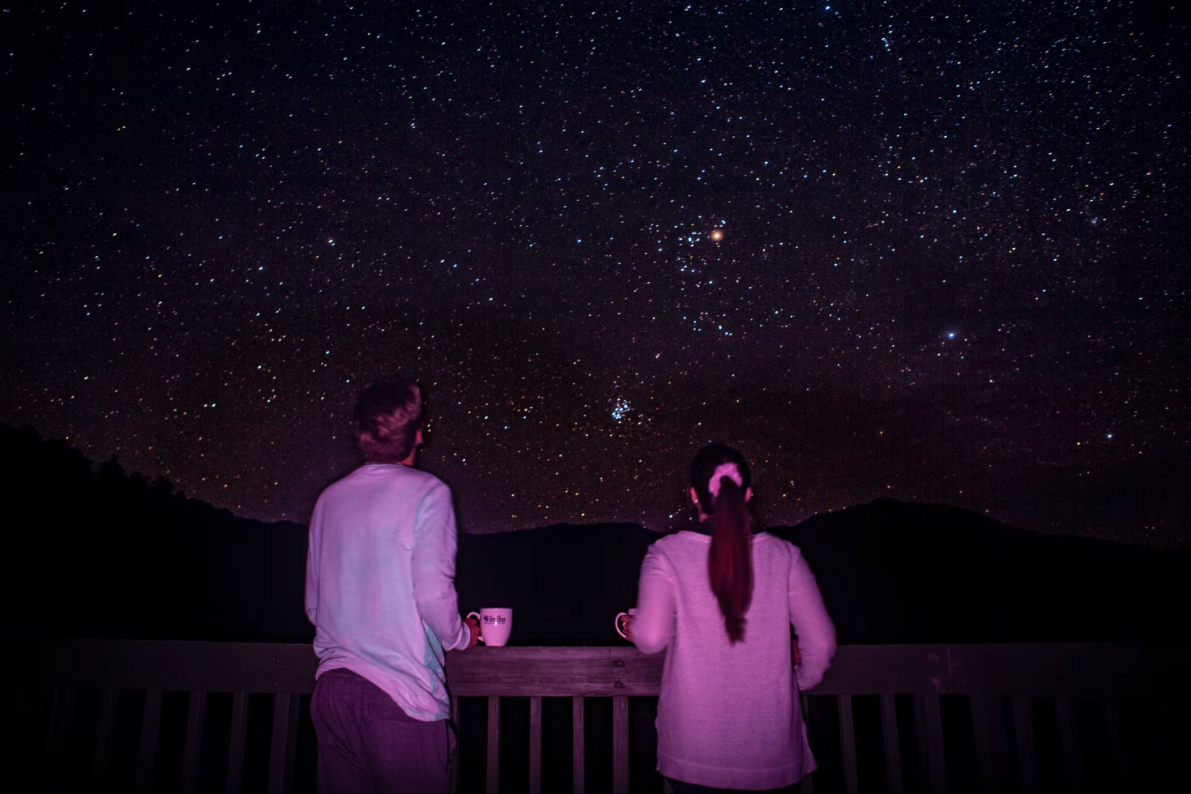 It's common for many authors to use the image of the stars in their works of romantic poetry because, like love, the sky is vast and infinite. Thus, the great Rubén Darío once put the following amorous verses on paper:
"When I was going to mount that rough and trembling horse, I said: 'Life is pure and beautiful'. Between her vivid eyebrows I saw a star shine. The sky was blue and I was naked."
And when you enjoy it the most is when it shines the most. Thus, it's normal that couples, lovers or newlyweds want to celebrate their love under the brightness of the best skies, especially for Valentine's Day in Gran Canaria. In fact, UNESCO considers the island a Starlight Destination for the high quality of its skies for astronomical observation.
Stargazing as a couple is one of the most romantic plans imaginable, especially if you include a wine tasting and tapas under the Roque Nublo, the giant that watches over Gran Canaria and from where you can also see the neighboring island of Tenerife.
Contemplate a romantic sunset in the Dunes of Maspalomas, the most famous beach in Gran Canaria
There is a moment on Valentine's Day, just when the afternoon and the light languish, that makes everything visible seem magical. This moment is called the golden hour, especially if it happens in the spectacular Maspalomas Dunes.
The sunset is the magical moment to take out the camera and immortalize an indelible memory with the silhouette of the majestic Maspalomas Lighthouse projected on the sun. As if the landscape became a natural canvas right at sunset.
Right after the blue hour comes, which is when the yellow and orange tones disappear and appear, as if by magic, pink tones that later merge with an intense blue color.
Enjoy a wine tasting for two in a Gran Canaria winery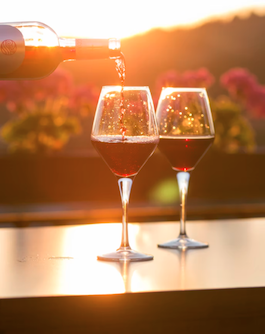 An original alternative to spend Valentine's Day in Gran Canaria is with a wine tasting. Beyond the sea and the beaches, the island hides a long tradition of wine production.
In fact, a good number of young, red, white, fruity and very aromatic wines are produced here, all of great quality and that make up the Gran Canaria Denomination of Origin.
And the best way to discover all these flavors is by visiting one of the many wineries on the island, among which the Casa del Vino in the municipality of Santa Brígida stands out. In them, in addition to a tasting, a visit can be made in which to learn about the production methods. A romantic and unexpected plan.
Whatever plan you choose to spend Valentine's Day in Gran Canaria with your better half, we are sure that on this island you will both experience unique and unforgettable moments thanks to the magic of Cupid. And at Dunas Hotels & Resorts we are waiting for you with open arms.