Explore the seabed of the island and let yourself be amazed.

Scuba diving is the best way to explore the richness of the island's diverse seabed. Immerse yourself in a world of silence beneath the ocean of Gran Canaria and discover the beauty hidden behind the island's surface.
In this article, we're going to introduce you to the 3 best places to dive in Gran Canaria.
Top dive sites in Gran Canaria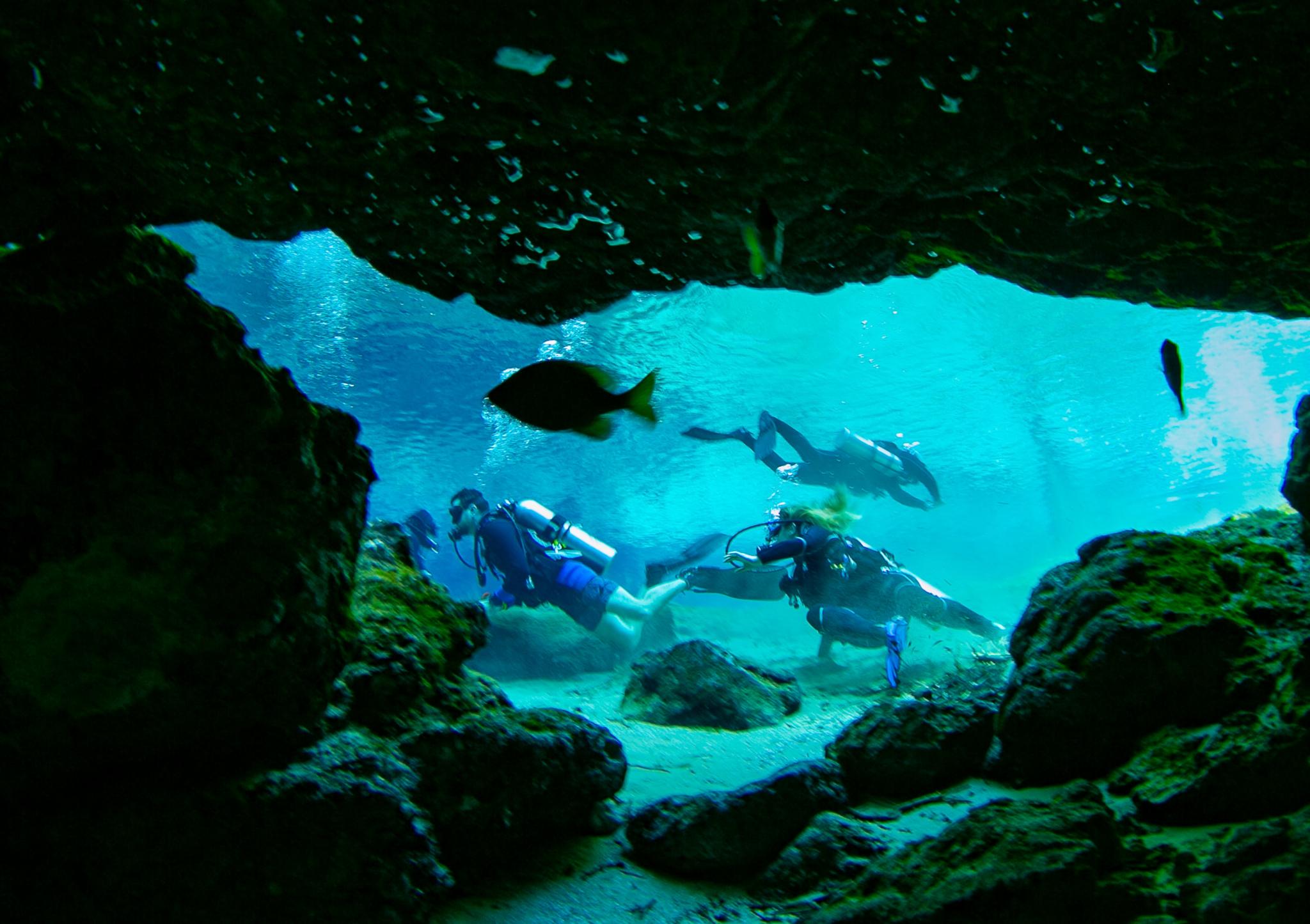 Among all the popular dive sites in Gran Canaria, we've selected the following top three dive sites:
1. The Cabrón Marine Reserve (Arinaga)
The Cabrón Marine Reserve is located in Arinaga, on the east coast of Gran Canaria. It has a prolific marine life and a great variety of fish in its waters and is one of the favourite dive sites in Gran Canaria. It's not only interesting for its biological richness, but also because it's an area with a wide range of volcanic formations such as tunnels and passages, arches and caves.
The average depth of the Cabrón Marine Reserve is between 20 and 35 metres, although there's also an impressive rock formation at a depth of only 12 metres along the entire length of the reef.
What can we see in the Cabrón Marine Reserve? You can discover shoals of sardines, bogue seabream (bogas), vieja, bream (sargo and palometas), guelde, tevally (jureles), mullet (salmonete), damsel (fula), yellowfin croaker (roncador), large schools of grunts, barracudas (named bicudas in the Canary Islands), as well as the occasional huge ray (chuchos), moray eels, angel sharks, seahorses and spider crabs, among others. 
How to get to the Cabrón Marine Reserve
- If you're arriving by bus from the south, you can take the line Global 22, 23 or 25 to Arinaga (Alcalá Galiano or Polideportivo).
- If you're coming from the north of Gran Canaria, you can take the Global 50 or 30 to the south of Gran Canaria and change to one of the above-mentioned lines. Once in Arinaga, take Pº del Faro to Playa del Cabrón.
- If you go by car, take the GC-1 towards C. Canal Derecha. Take exit 25 from the motorway and follow C. Canal Derecha to Playa del Cabrón. You can park in the car park at the old pier or anywhere in the village of Arinaga.
2. Pasito Blanco
Pasito Blanco is another popular dive site along the south coast of the island, and there are several dive schools in the area. You can admire marine species such as barracudas, moray eels, bream, rays, grunts, guelds, trumpet fish and more.
In terms of depth, you can dive in this area from 15 to 20 metres (top of about 13m and drop off to a maximum of 20m). The reef is oval-shaped on a sandy bottom. It's suitable for all divers.
How to get to Pasito Blanco
- To get to Pasito Blanco by bus take bus number 01 to Cruce Pasito Blanco. You'll arrive at the marina in less than 15 minutes walk.
- To get to Pasito Blanco by car, take exit 50 towards GC-500. Continue along C. Goleta and C. Fragata to C. Bergantín and look for parking. From there, it's less than 5 minutes to the Pasito Blanco Marina.
3. The Cathedral
La Catedral is an underwater area in the north of the island, off the coast of La Isleta, a small peninsula attached to the capital of Gran Canaria, Las Palmas. It's the ideal place for more advanced divers, with impressive volcanic forms.
It's an underwater cavern where you can descend through a huge natural tube. The descent to the seabed is about 12-14 m, although the cavern itself extends to a depth of 45 m. 
You can explore passages and gothic-shaped arches and vaults (hence the name La Catedral ([The Cathedral]). The marine fauna includes prawns and crabs. La Catedral is definitely one of the most spectacular dive sites on the island. Discover its magical and unique environment! 
Note: Requires Advanced Open Water certification or similar.
How to get to La Catedral
La Catedral is located 25 minutes by boat from the town's marina. 
We recommend going by car, as access by public transport is difficult. Follow the GC-1, pass La Isleta and arrive at Cantera Piedra. However, we recommend going with a diving instructor or someone experienced.
Accommodation in Gran Canaria
Do you want to experience the magic of Gran Canaria and immerse yourself in its waters, but don't know where to stay? At Dunas Hotels & Resorts we offer you several hotels in privileged areas and close to the best diving spots in Gran Canaria such as Maspalomas or San Agustín. Discover your favourite one!
- Enjoy an adults-only hotel in San Agustín with the Don Gregory Hotel and relax in your getaway with sea views.
- If you want to be close to the dunes and the beach of Maspalomas, choose the Hotel Suites & Villas by Dunas, official accommodation of the Gran Canaria Bike Week or the Maspalomas Resort. Stay in beautiful villas and suites surrounded by an oasis of native vegetation, with the Maspalomas Dunes less than 10 minutes away. Gardens, palm trees and swimming pools complete the paradise offered by Dunas Hotels & Resorts.