Welcome to sunny Gran Canaria, a paradise island located in the heart of the Atlantic Ocean. Known for its beautiful landscapes and idyllic beaches, this Spanish gem is a haven for sunseekers and nature lovers alike. Today, we're taking you on a journey to the southern part of the island, where you'll discover the seven best beaches that are bound to make your holiday truly memorable. From golden sands to crystal-clear waters, prepare to be enchanted by the charm and beauty of these spectacular coastal gems in the south of Gran Canaria.
Gran Canaria stands out for its extraordinary climate, with warm temperatures all year round. If you love idyllic beaches, you shouldn't miss the best beaches in southern Gran Canaria. Some beaches are full of peace and tranquillity, with calm waters to enjoy perfect family days, and others are a hive of aquatic activities and fun. Discover Gran Canaria's charms that are part of this continent in miniature and choose your ideal beach!
Top 7 beaches in the south of Gran Canaria
We've carefully curated a list of the top seven beaches in the southern region of Gran Canaria, each offering its unique allure and incredible experiences. Whether you're seeking solitude and tranquillity or fun water sports, these beaches have something for everyone. Get ready to dive into a world of sun, sea, and sand. So grab your sunscreen and join us as we unveil the top contenders for the best beaches in the south of Gran Canaria.
1. Maspalomas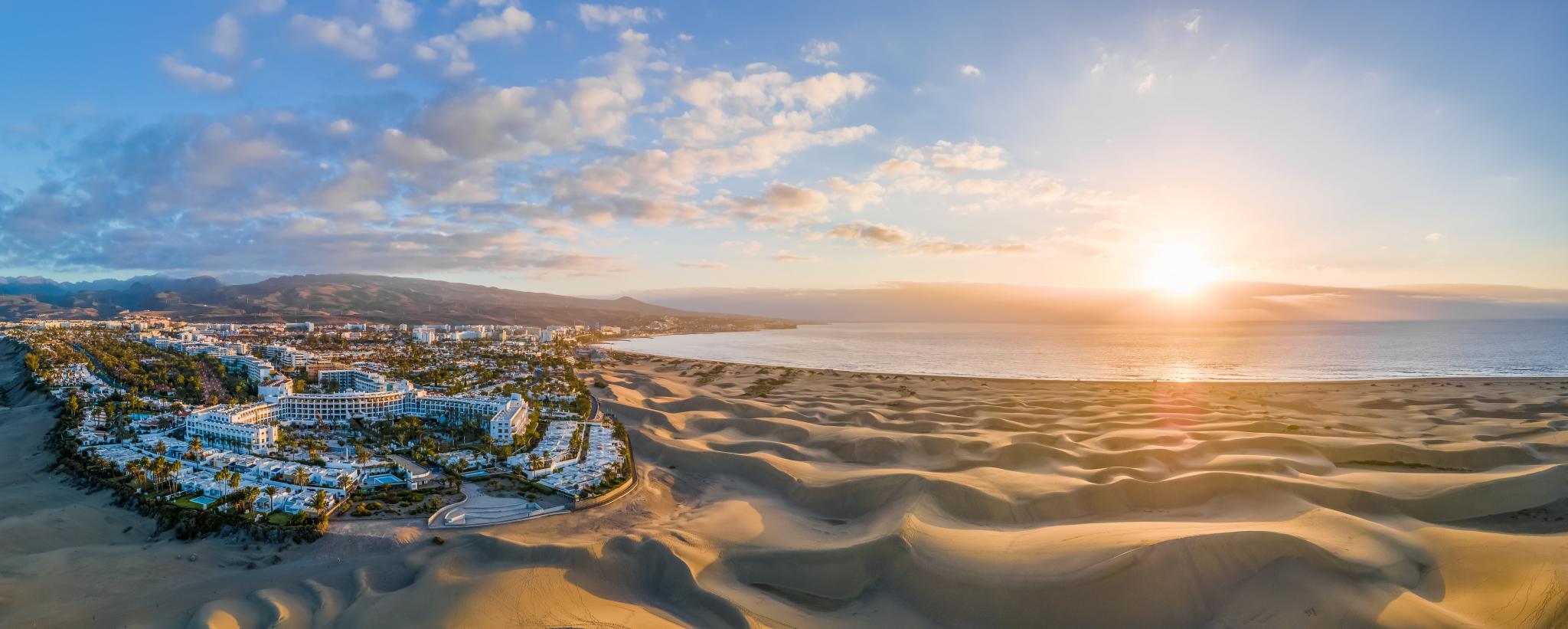 You can't miss going to Maspalomas. Have you ever seen sandy dunes and beautiful calm seawaters on the cover of travel magazines? Well, those dunes that you probably thought were far away are closer to you than what you think. They are in Gran Canaria and are a unique dune system in the world. In Playa de Maspalomas, you can find a mixture between desert and oasis. Here is where the Atlantic Ocean and land come together to offer unique sensations to you.
Furthermore, Maspalomas has a very interesting Lighthouse. It is a place where many travellers go for a walk to see lifetime memorable as well as stunning sunsets; there are also many shops where you can purchase some souvenirs, stores from prestigious brands and an avenue in which, surely, time will fly. You'll enjoy authentic sand artworks right in front of the lighthouse and also very artistic human statues. If you can ever guess how they manage to stand up, please, let us know! If you stay at Suites & Villas by Dunas or Maspalomas Resort by Dunas, Maspalomas and its lighthouse will be walking distance from you.
2. Amadores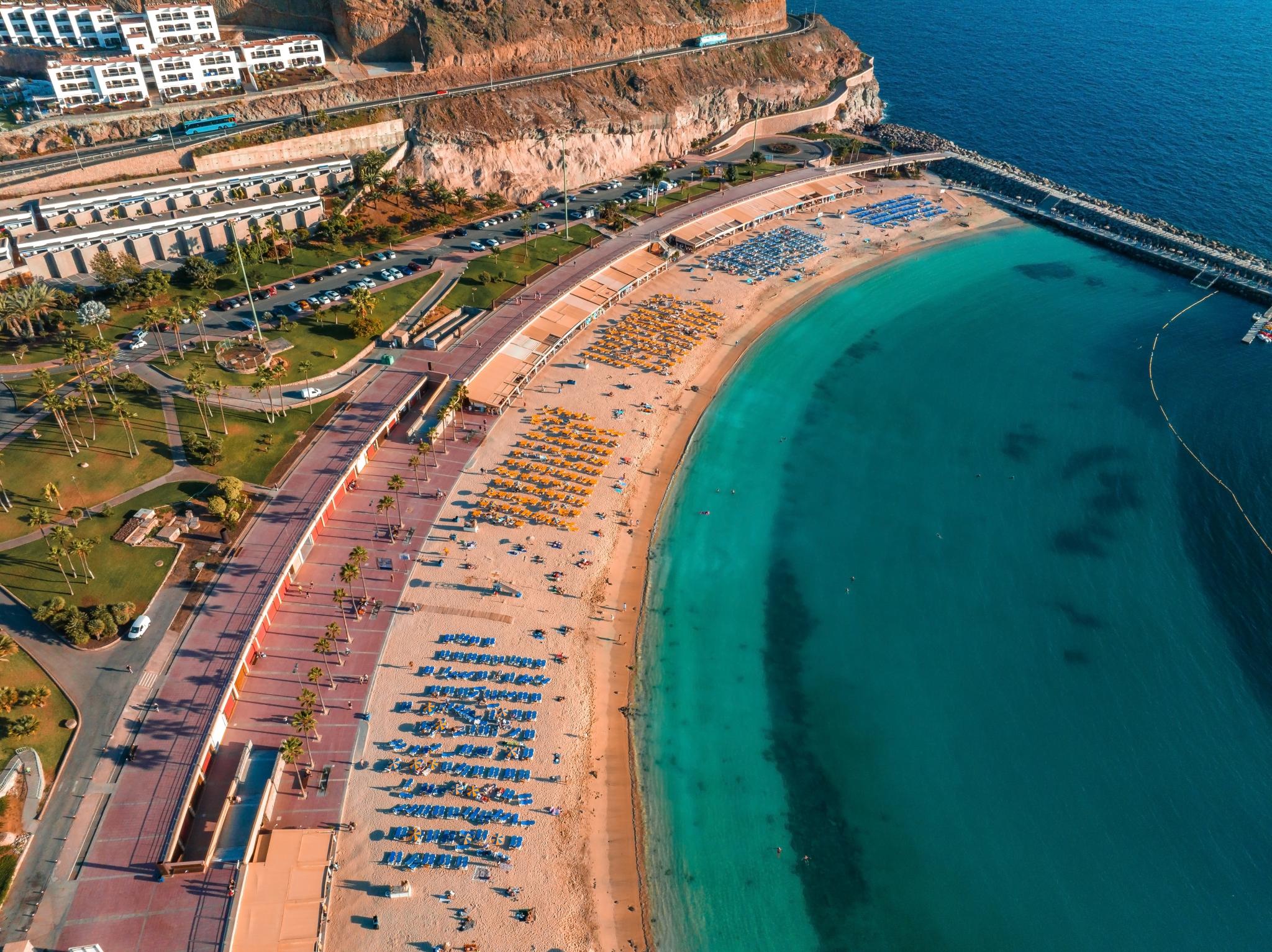 Amadores is one of the most beautiful beaches in Gran Canaria. It's located in the southwest, between Puerto Rico and Mogán, and about 45 minutes from the capital. It stands out for its white sand and its spectacular turquoise water, giving it a Caribbean flair. Not only that, but it has a small promenade full of restaurants, bars, and cafes, so you don't have to leave the beach during your whole stay. Find out more about it here.
3. Playa del Inglés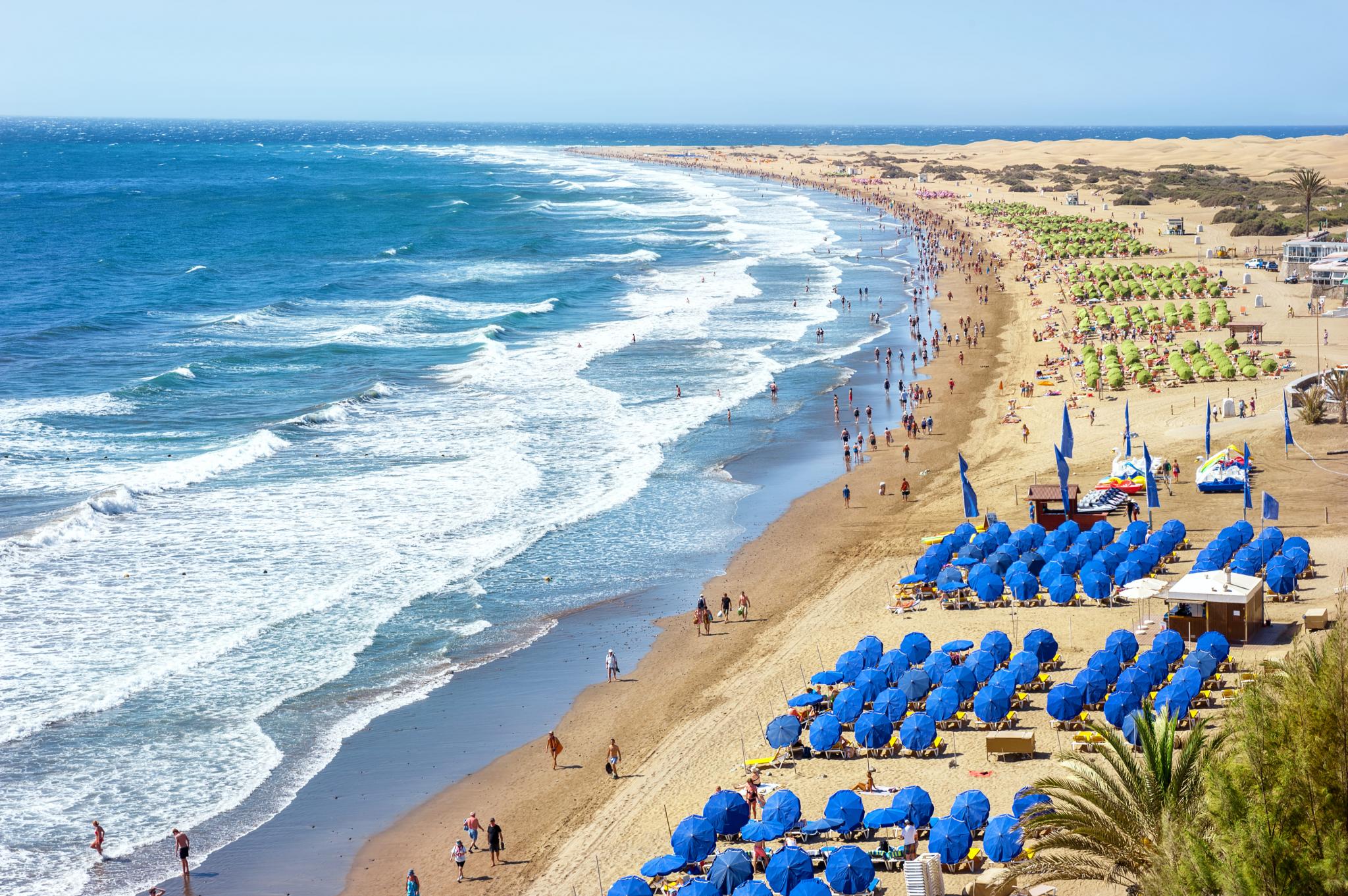 Playa del Inglés is one of the most popular beaches in the south of Gran Canaria. It's 3 kilometres long and walking from Playa del Inglés to Maspalomas is possible. Between Playa del Inglés and Maspalomas you can find the nudist section, and also where the gay community meets to enjoy the sun and ocean.
The town itself and the beach is very touristy, with any type of establishments like shops, beach bars, restaurants, supermarkets etc. at beachfront. Also, at the beach, you can practice plenty of aquatic activities. Renting a banana or a kayak are just a few of them.
4. Playa de Las Burras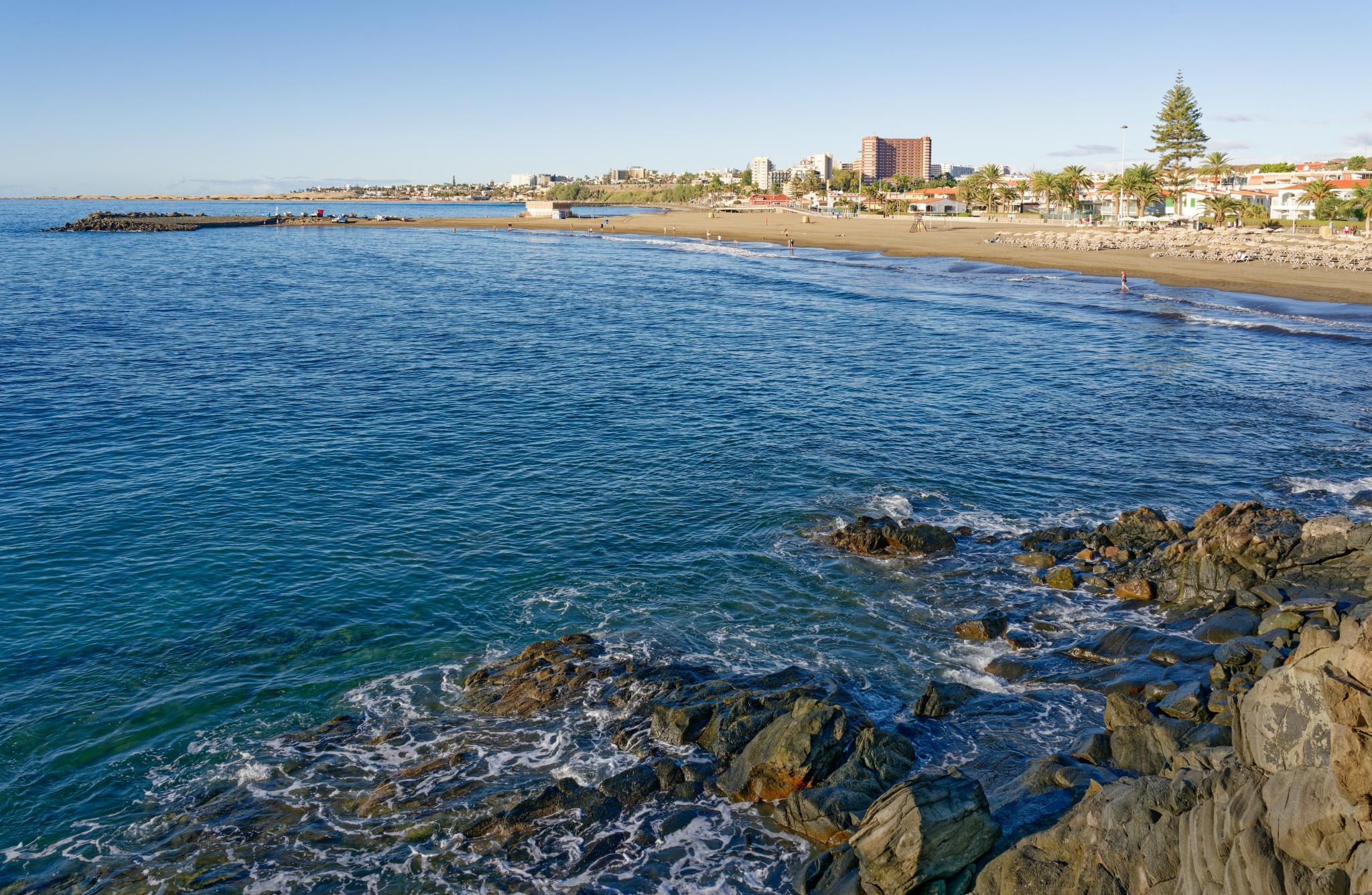 Playa de las Burras has fine volcanic sand and a usually moderate swell. Probably, it'll be one of your favourite beaches to spend your holidays in Gran Canaria. It's located in San Agustín, an area that, despite being urban, is the quietest place where to enjoy some days off. In San Agustín there are superb hotels like Don Gregory by Dunas, a unique place where you'll forget about stress, waking up with the sand at your fingertips. The view is such a dream come true that'll invite you to wake up with energy every day and where you'll definitely feel perfectly welcomed.
At Las Burras you can find many nice restaurants with great views to enjoy while you have a drink. However, if you're staying at Don Gregory you'll certainly have the best views. Likewise, if you like going for walks, you can go to Playa del Ingles along its beautiful seafront promenade. A truly romantic evening walk if you do it with your partner.
5. San Agustín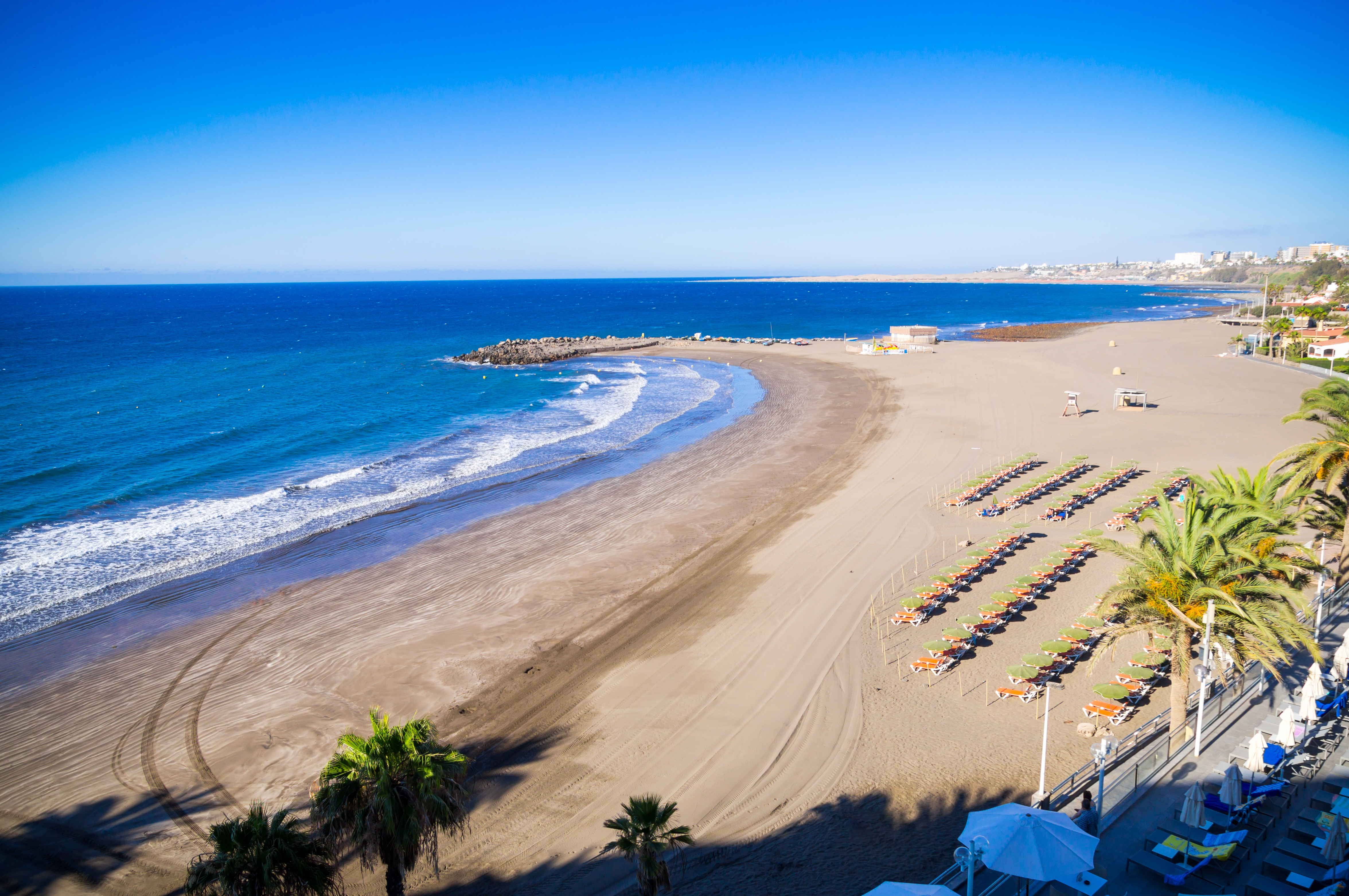 An endless horizon, the bursting of the small waves and the sea at your feet, what more could you ask for? Is there a better feeling than feeling totally free? Yes, this is exactly what you'll feel on beaches like Playa de San Agustín, one of the favourite among Canarian families.
It's one of the less crowded beaches and has little swell. Just enough for children, who come with their families, to enjoy jumping waves. San Agustín is a fabulous 670 meters long by 70 meters wide golden beach. San Agustín joins up with Las Burras and its promenade reaches Playa del Inglés. Here you can also find bars, restaurants and cafés.
6. Meloneras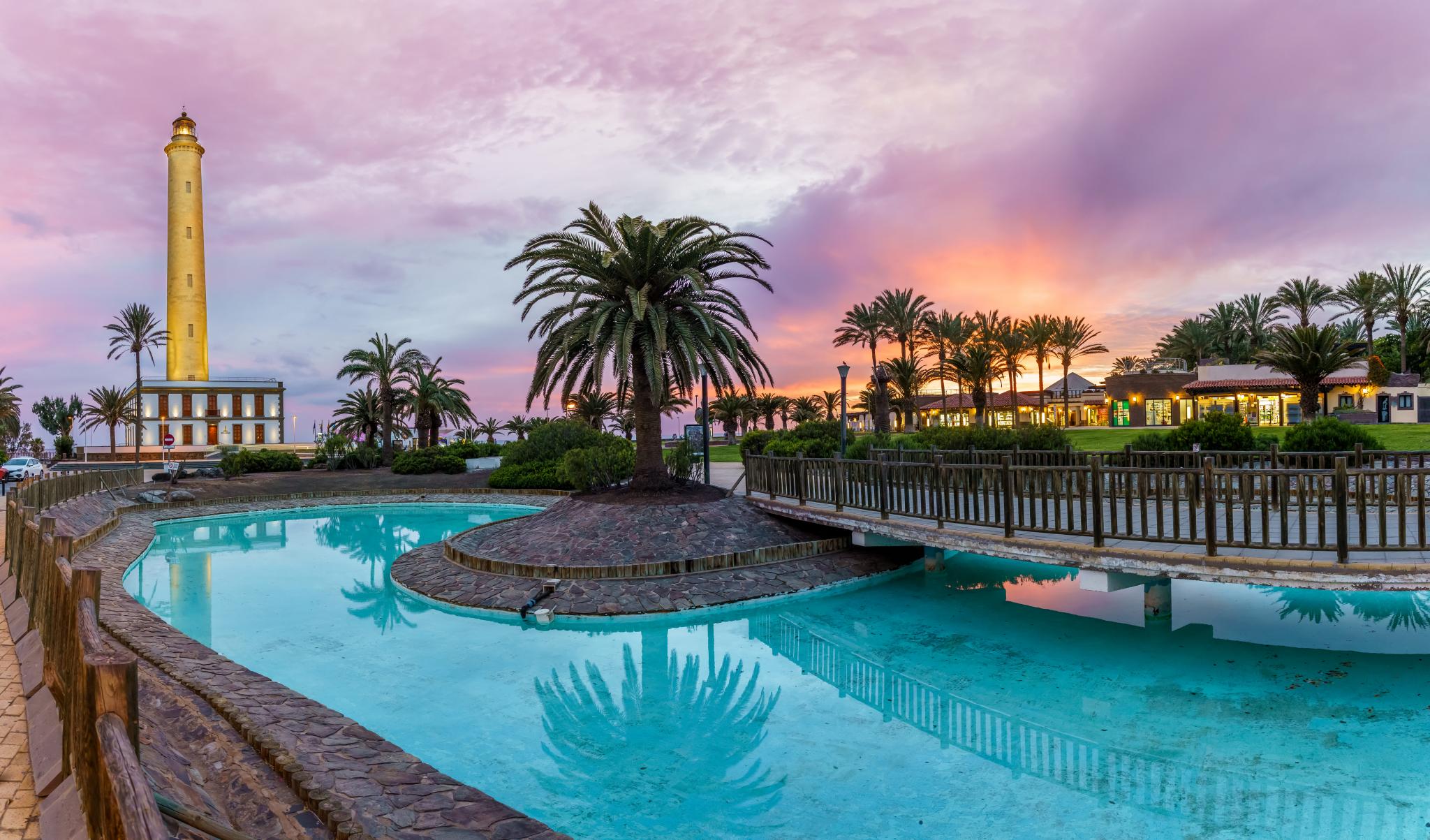 Playa de Meloneras is a beach of singular beauty. It's smaller than Playa del Inglés and Maspalomas, but despite its smaller size, its natural charm is quite unique. Absolute tranquillity, good atmosphere and better climate converge to offer you a perfect day on the beach in the south in Gran Canaria, just what you were looking for, isn't it?
There are plenty of shops around Playa de Meloneras, magical corners where to have a cocktail and places to go out to dance and have fun.
7. Anfi del mar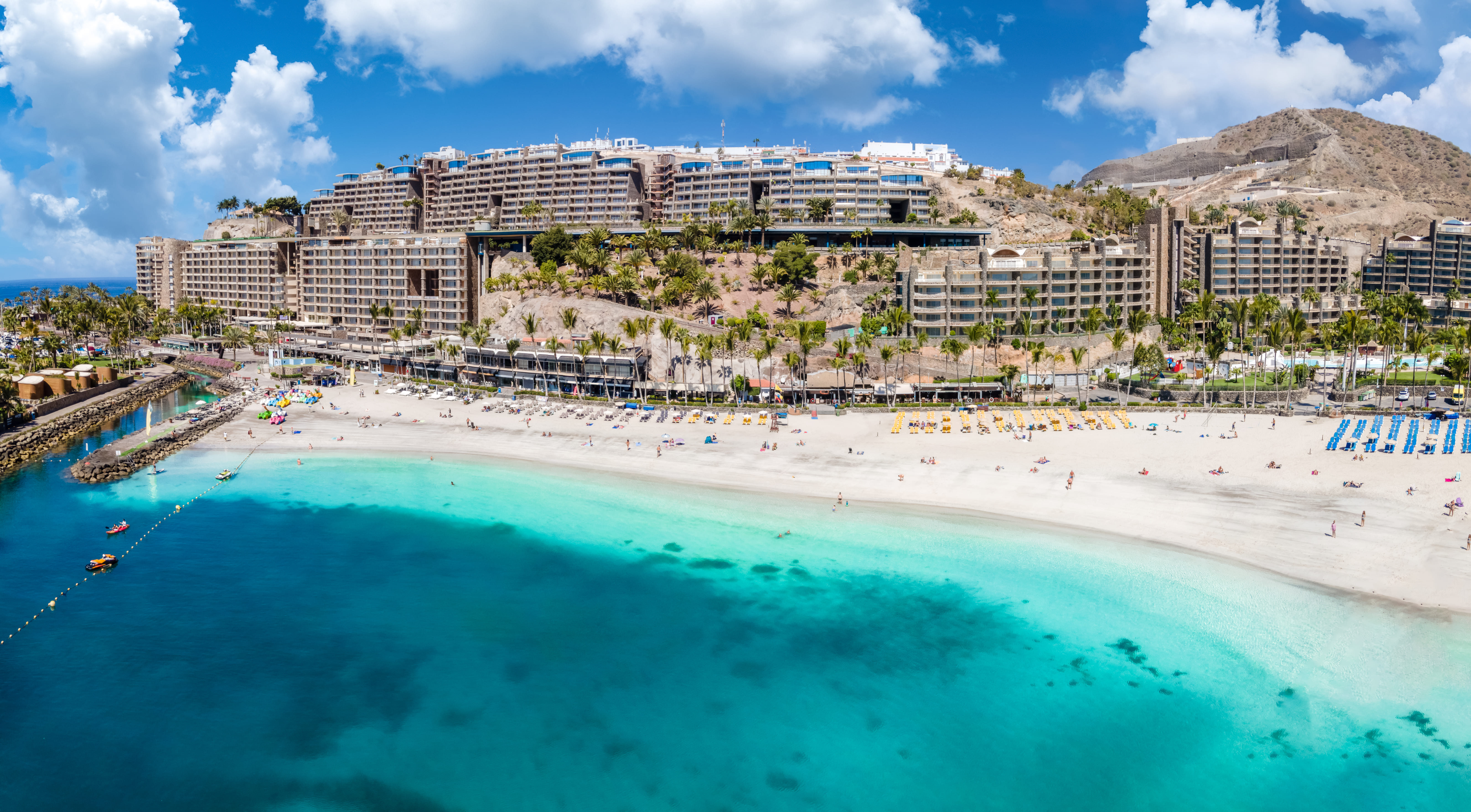 Anfi is another example of a beautiful beach in Gran Canaria. It's a small, exotic beach that belongs to the southern municipality of Mogán. It's an ideal place to enjoy its white sand and crystal clear waters. Next to it is the luxurious resort of its same name. Have a refreshing drink on one of its many terraces, and don't miss the opportunity to visit the artificial island in the shape of a heart next to its marina.
So, if you're looking for a destination where to spend some delightful holidays surrounded by peace, this island is the place to come to. Its people, its tradition, its customs and, of course, the beaches of Gran Canaria will allow you to enjoy some days of wonderful disconnection.