Discover the paradise within reach: the most beautiful beaches in Gran Canaria.

Are you planning to travel to the Canary archipelago to enjoy a holiday surrounded by sun and sea? On an island like Gran Canaria, you'll find everything you need to make your holiday a unique and incomparable experience.
Visitors of the island love the island's climate, its food and, especially, its beautiful beaches. Gran Canaria's volcanic heritage can even be seen in the type of sand, as you can find beaches of all colours, styles, and sizes.
You'll find both golden and black sand beaches next to the wonderful and impressive Atlantic Ocean. So, if you're looking for a great way to spend a few days of summer on this island, this article about the most beautiful beaches in Gran Canaria will interest you!
We're focusing on showing you the most spectacular beaches, and we've chosen beaches located in very important spots that can give you an added bonus to your holidays during the days you spend there.
Gran Canaria isn't only sand, sun and sea, the island is full of magnificent hotels, museums, monuments, dream places and unique moments such as sunsets that seem to be taken from the best postcards, among many other things that you can experience only by visiting these corners of the coast.
The beautiful coasts of Gran Canaria
Gran Canaria, a paradise full of natural wonders, captivates with its variety of landscapes. This island, located in the heart of the Atlantic Ocean, is distinguished by the diversity of its microclimates, which give each corner a singular and unique environment. Its volcanic orography, with numerous ravines winding down from the island's peaks: the imposing Pico de las Nieves and the emblematic Roque Nublo.
These natural monuments mean that we can enjoy a variety of climates and experience very different sensations, even though the beaches are only a few kilometres apart.
1. Las Canteras Beach: one of the urban city beaches
Not only is it one of the most beautiful beaches in Gran Canaria, but it's also the summer resort of many Canarian families as it's the busiest beach in the capital of the island: Las Palmas de Gran Canaria.
It's surrounded by numerous restaurants and shops where you'll discover the quality of Canarian products and the multiculturalism that embraces all countries.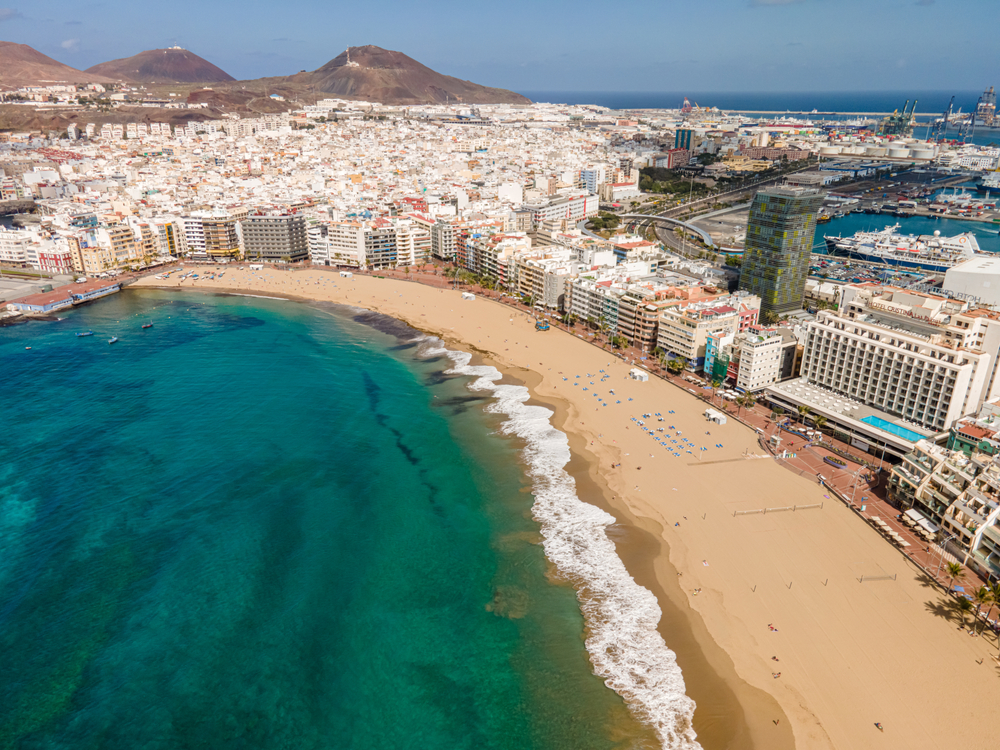 Its more than 3 kilometres long will give you the gift of a stroll that starts in La Puntilla, an area of golden sand and full of vitality where numerous shops and restaurants congregate, consolidating the area as the most touristy.
Passing the area of Playa Chica and Peña la Vieja, we reach the end of the route: the beach of La Cícer. Here, the sand turns black and volcanic, and fans of water sports such as surfing have a date with the waves. At the end of Las Canteras Beach, an emblematic monument that illuminates and shows the way to the north of the island, the Alfredo Kraus Auditorium.
2. Güigüi: the most secluded beach
You can reach this place and confirm what its reputation says: it's one of the most beautiful, unspoilt beaches in the whole of the Canary archipelago. Güigüi is the example that the most beautiful things on this planet are hidden.
To access this beach, you'll have to do an interesting hiking route that ends at this beautiful beach of dark sand and crystalline waters, or you can access it by boat from the municipalities of La Aldea de San Nicolás or from Mogán. If you have the opportunity to discover it, we highly recommend it because the experience is unique, as is the beach.
3. The iconic Dunes of Maspalomas
A nature reserve, a magical place, an ocean of golden waves in the south of Gran Canaria, where you'll feel like you're at the beginning of a great desert. For a large part of the year, the sun provides a climate with an average annual temperature of 24º.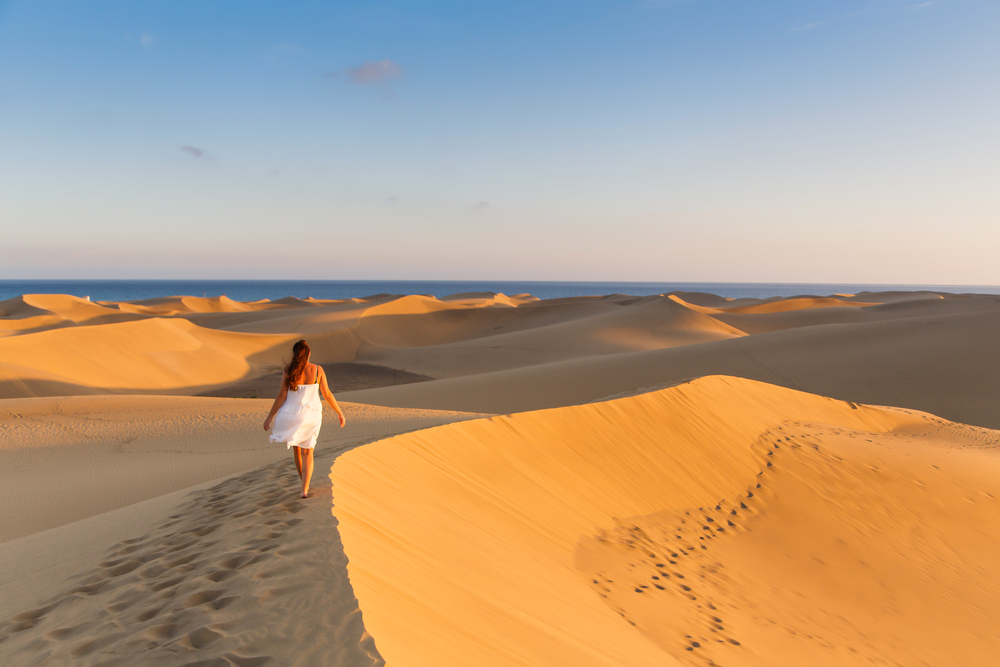 Not only will you be able to contemplate them from afar, but you'll also be able to immerse yourself in their essence and capture truly stunning photographs thanks to one of the most impressive sunsets on the planet. In this marvellous spectacle, the sky is tinged with shades of blue, red, and purple as darkness approaches, creating a unique backdrop that will turn your walk into an unforgettable experience.
4. Playa del Inglés: one of the south's favourite beaches
One of the most outstanding beaches in Gran Canaria and, without a doubt, one of the most famous as it's located close to the Maspalomas Dunes. Playa del Inglés is one of the most famous tourist destinations on the island.
With the main advantage of its location, as it's situated in a busy tourist area, it allows its visitors to enjoy a lively and vibrant atmosphere. In addition, and by way of recommendation, next to it is the quiet beach of San Agustín, where you'll undoubtedly find the best beachfront hotel in the area and a tribute to calm and quality: the Don Gregory by Dunas hotel.
5. Amadores: the little Canary Island Caribbean
Finally, we recommend this paradisiacal beach located in the municipality of Mogán, with 450 metres of white sand, ideal for families and children. It has all the amenities you need to have the best experience, such as umbrellas to escape from the sun or sun loungers where you can make yourself comfortable, as well as all kinds of restaurant services to enjoy.


Hotels near the beaches of Gran Canaria
And as we don't just want to inform you about the most beautiful beaches of Gran Canaria, we show you four incredible hotels to enjoy a holiday on this versatile island in every way.
- Maspalomas Resort by Dunas and Suites & Villas by Dunas are our recommendation for families, as they have amazingly complete rooms and services provided for your children. In addition, you can enjoy a remarkable stroll in their well-tended gardens that end in wonderful swimming pool areas.
- Mirador Maspalomas by Dunas is the most dynamic and fun hotel we can recommend in the south of Gran Canaria. Thanks to its impressive offer, in this hotel you'll be able to enjoy your holidays. Children can continue their fun thanks to the hotel mascot who, together with the excellent entertainment team, will ensure that the little ones have a great time. Undoubtedly, a multifaceted hotel that we invite you to discover.
And so concludes our exhaustive guide to the stunning beaches of Gran Canaria, which are eagerly awaiting you to offer you a holiday full of sun, peace, natural beauty, golden sand, crystal-clear waters and an infinite number of emotions and sensations.