Are you looking for nude sunbathing and swimming on Gran Canaria? Keep reading!

Gran Canaria is a tourist destination known for its beautiful beaches and privileged climate. But few people are aware of the number of nudist beaches Gran Canaria has to offer.
From long natural beaches with white sand or black sand and crystal clear waters to small coves, Gran Canaria has something for everyone looking to enjoy the sun and sea without the need to wear a swimming costume.
Whether it's relaxing in the sun, practising water sports or simply enjoying nature, Gran Canaria's nudist beaches offer a unique and different experience for the more adventurous traveller.
In this blog article, we'll take a look at some of the most popular nudist beaches in Gran Canaria and their main attractions, taking into account the diverse needs and tastes of visitors.
Top 5 nudist beaches in Gran Canaria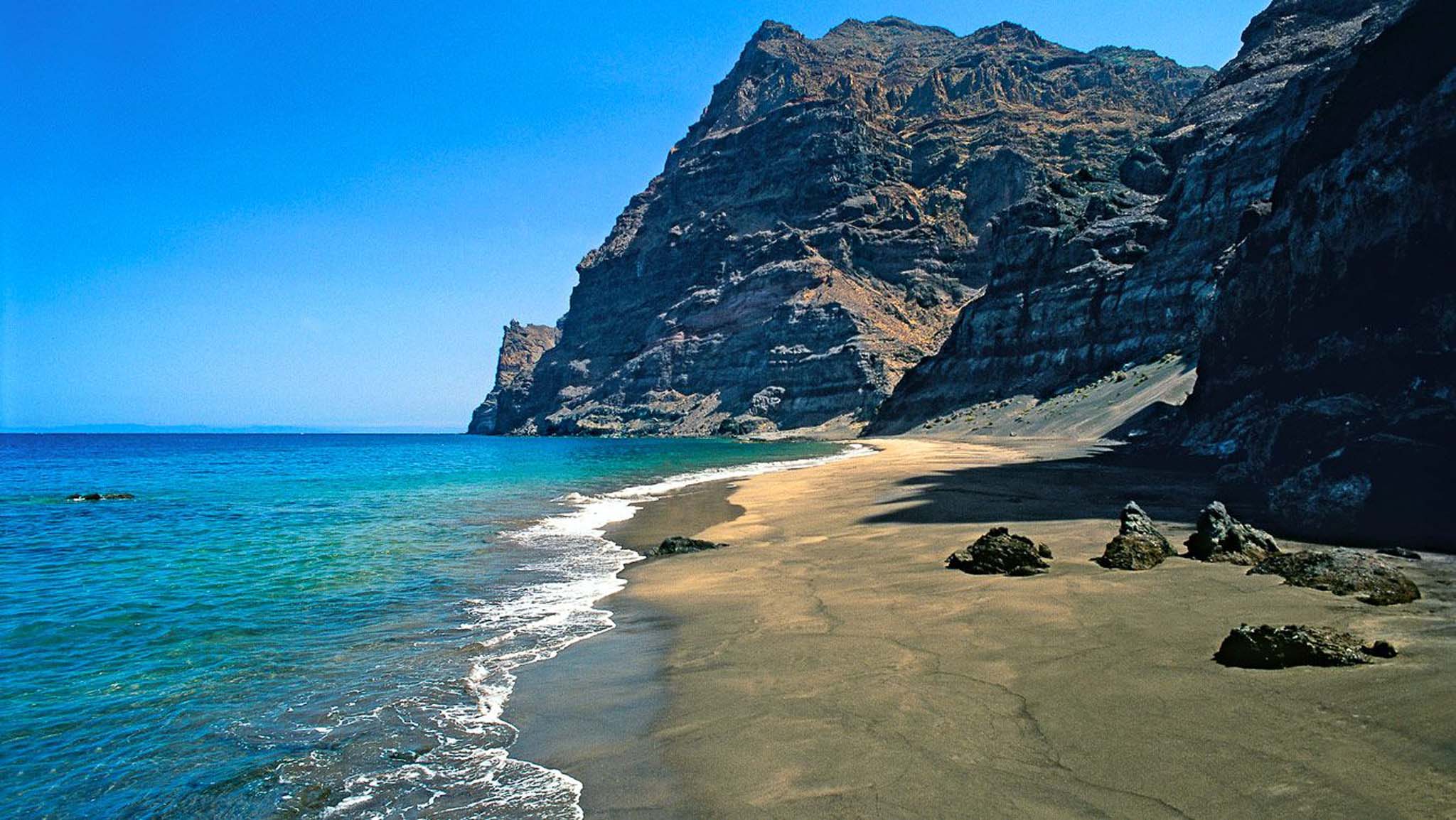 Here are the best known nudist beaches
on the island and even those not often mentioned, as listed by the Spanish Naturist Federation.
1. Las Salinas Beach
Located in the north of the island, we can find the beach Las Salinas. It's a small beach covered with rocks in a natural setting, ideal for disconnecting from routine.
Nearby there are some natural pools that are well worth a visit to enjoy the calm waters. Bearing in mind that it's in the coastal area and surrounded by rocks, you won't find any kind of services as it's far from the urban area.
2. Playa del Inglés and Maspalomas Beach
The beaches par excellence in the south of Gran Canaria are undoubtedly Playa del Inglés and Maspalomas, which are 2,700 metres long and 50 metres wide. Both are located close to the urban area of the municipality of San Bartolomé de Tirajana.
The nudist part of the beach is located to the south, in a natural area of dunes, where bathers can enjoy the sun and the sea without the need to wear a swimming costume. It's a wide and quiet beach, with crystal clear waters and white sand. 
In addition, there are different services such as bars, sun lounger and parasol rental, and the possibility of practising different water sports.
3. Las Mujeres Beach
Continuing along the promenade of Maspalomas, we find the beach of Las Mujeres. It's a small nudist beach with a surface of dark sand and gravel and calm, transparent waters, ideal for sunbathing and enjoying a refreshing swim. 
As it's naturist, it's frequented by people who seek the tranquillity and privacy of being able to be without bathing clothes; quiet and cosy, perfect to disconnect from the hustle and bustle of the city and enjoy a day of sun and beach in a natural and relaxing environment.
4. Montaña Arena Beach
Montaña Arena is a beach far from the noise of the cities, being well known by those who live on the island. The beach has fine and clear sand, ideal to enjoy with family and friends; here you can practise nudism and enjoy nature due to the lack of prohibitions in the area.
This beach is located in the south of the island, between the municipalities of Pasito Blanco and Arguineguín.
We recommend that you bring everything you need for a wonderful day of sun and beach, as there are no establishments nearby, as you can only get there on foot or by sea.
5. Veneguera Beach
Veneguera is one of the most isolated and quietest nudist beaches in Gran Canaria. It's located on the west coast of the island, south of Mogán, and is accessed by a route through a beautiful natural landscape full of mountains and cliffs.
The beach is fine golden sand, with crystal clear waters and not very deep, making it ideal for swimming and snorkelling. Visitors can enjoy a relaxed atmosphere away from mass tourism, as the beach is located in a more secluded area. It's important to bring food and drink if you plan to spend the day at the beach. 
Furthermore, it's ideal for those looking for direct contact with nature, to enjoy the sun and tranquillity, and to relax in a natural environment of incredible beauty.
Enjoy the nature and freedom of Gran Canaria
In short, in the range of possibilities offered by the island to enjoy its different environments, Dunas Hotels & Resorts is proposed as a chain of establishments where you can have fun, rest and disconnect. We invite you to visit its 4 hotels: Suites & Villas by Dunas, Don Gregory by Dunas, Maspalomas Resort by Dunas and Mirador Maspalomas by Dunas.