See what's the hype about with a tour on a jet ski.

Gran Canaria has a great variety of adventure and adrenaline plans. The island is much more than just sun and beach. It's an island that can be enjoyed from different points of view thanks to the jet ski excursions in Gran Canaria.
Getting on the back of these aquatic vehicles to fly over the ocean and enjoy the coast of Gran Canaria is the best way to discover hidden and wild places that would otherwise go unnoticed.
Come and discover the best jet ski excursions to enjoy with friends, family, or your partner.
The 5 best places to jet ski in Gran Canaria
All those who visit the island, come to rest, take a few days to relax and discover the benefits that the island has to offer. They're seduced by the mild temperatures, the long hours of sunshine and the great variety of leisure and cultural activities on offer.
However, people also come attracted by the water sports. Riding a jet ski is one of the most popular water activities in Gran Canaria. A clear example of this are the jet ski excursions in Gran Canaria.
These excursions have a duration of approximately 1 hour, including a brief instruction before riding and a liability insurance in case of any malfunction.
In this article, you'll discover the best places to enjoy speed, adventure, and adrenaline on board of the jet skis. Discover the wildest side of the island, full of emotions that'll surely make you want to repeat the experience.
1. Puerto Rico
One of the most important tourist enclaves in the south of the island. There are several jet ski excursions around Puerto Rico such as Anfi del Mar or Patalavaca.
Puerto Rico is the ideal place to get to know hidden places, such as the small beaches, coves or bays, where you can take a dip in the crystal-clear waters.
2. Maspalomas
The epicentre of tourism in Gran Canaria. As well as sun and beach, Maspalomas has a wide variety of interesting water sports.
Thanks to its privileged geographical location, you'll be able to enjoy for an hour, from a different perspective, such iconic landscapes as the Maspalomas Dunes or the imposing Maspalomas Lighthouse.
3. Pasito Blanco
Pasito Blanco is the least known area in the south of Gran Canaria for tourists. It's a small residential area with a marina where different water activities are offered.
Among them are the jet ski excursions from Pasito Blanco to Tasarte, in the southwest of Gran Canaria, where you can discover the charm and marvellous landscapes that this area of the island has to offer.
4. Bahía Feliz
Located in the tourist enclave of San Agustín, Bahía Feliz is another place where you can rent jet skis in Gran Canaria.
It's an ideal area for all those adventurers who, for approximately two hours, are looking for strong emotions with a jet ski, as it's an area where the wind blows strongly almost every day.
You'll be able to go along the coast along places such as Playa del Inglés, Maspalomas and Meloneras.
5. Arguineguín
Finally, we come to the legendary fishing district of Arguineguín. In its port, apart from fishing, it's also an important starting point for the different water sports on offer.
Here, you'll be able to enjoy a 40-minute experience on board a jet ski accompanied by whoever you want, discovering coves and hidden beaches to enjoy a different day at the beach, full of adventures.
Jet skis in Gran Canaria: the most adventurous way to discover the island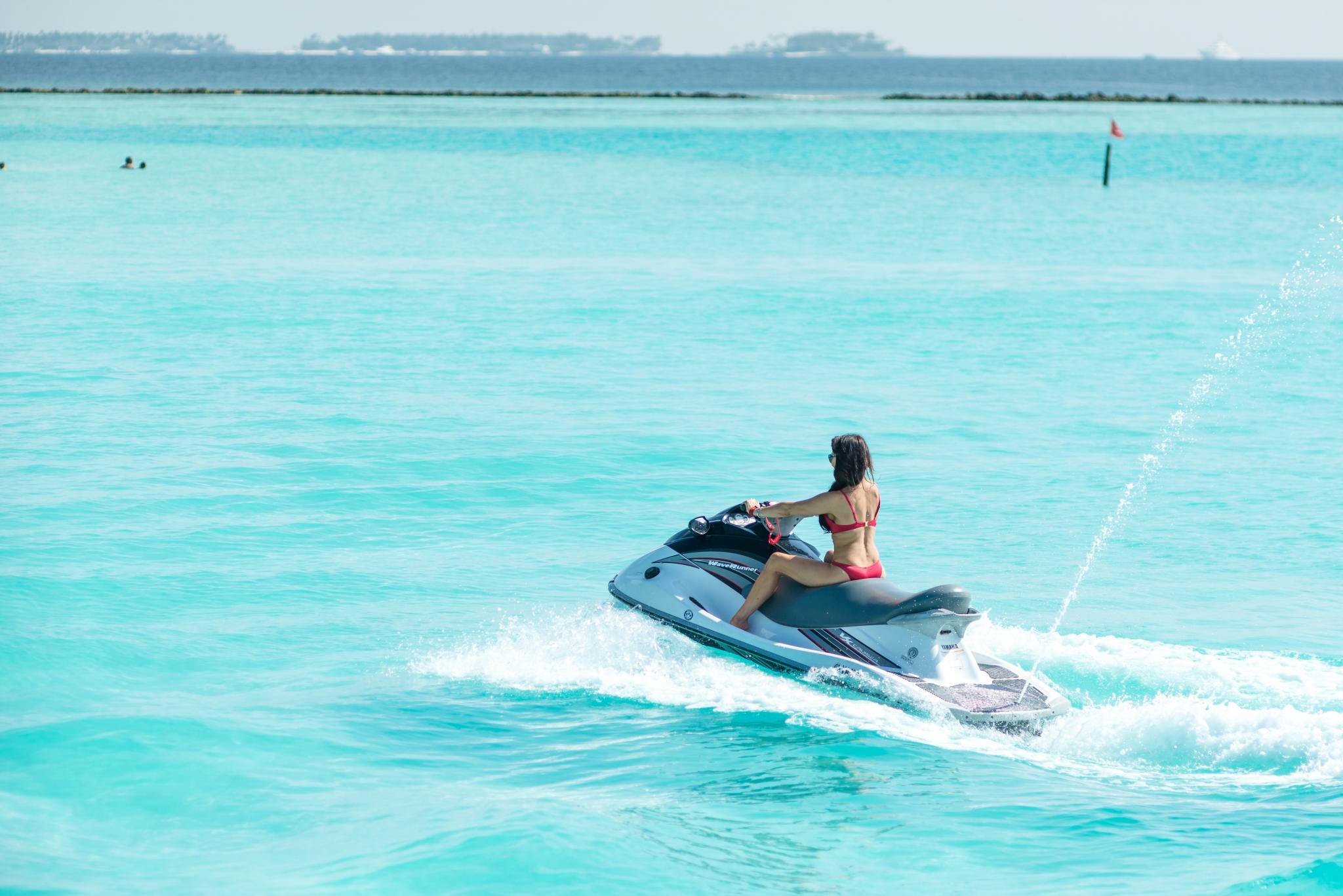 Jet ski excursions in Gran Canaria are an excellent option to enjoy the island from a different perspective. In addition to the adrenaline rush of sailing the seas aboard these vehicles, you'll be able to discover hidden spots that would otherwise be undiscovered.

In short, if you're going to spend your holidays in Gran Canaria, at Dunas Hotels & Resorts, we offer you the best range of hotels with our Suite & Villas by Dunas, Maspalomas Resort by Dunas, Don Gregory by Dunas or Mirador Maspalomas by Dunas. Ideal for enjoying the best atmosphere and the best excursions on jet skis in Gran Canaria with your family, friends, or partner.