Gran Canaria has a delicious gastronomy you cannot miss
Gran Canaria is an island of contrasts, a so called "continent in miniature" because of them: endless beaches, green ravines through which clear water flows, forests, arid landscapes in the south, volcanoes and city life. All that wealth (and even more) is also reflected in its rich and varied cuisine.
Its island's attributes, being surrounded by the sea, ensure fresh and succulent fish, among the most popular: the chernes, viejas, samas... Its crop areas ensure a wide and flavoursome variety of tropical fruits that will delight you at breakfast time or dessert: avocados, mangos, papayas and many more. And of course, the king of plantations in the north of the island: the Canarian banana. There are also well known its desserts made from almonds, from those trees that inhabit the peaks of the island.
There are at least three Canarian cuisine dishes that are a must have when visiting the island of Gran Canaria. We could include many more, but we rather you get daily suggestions at the buffet of our hotels or the restaurants you visit during your stay.
Papas arrugadas con mojo verde (Wrinkled Potatoes with green mojo, check entry photo)
If you've already heard of the Canary Islands, you have certainly also heard of wrinkled potatoes with mojo, which (the mojo sauce) can be green or red (mojo picón). Originally wrinkled potatoes were prepared with seawater; so there is where that salt excess in the way they are cooked comes from. The wrinkled papas demand a great deal of patience in the kitchen.  They must be well cooked, with plenty of coarse salt and a little water.
Wrinkled potatoes can be accompanied by spicy or green sauce, coriander. To prepare the latter you only need: coriander, garlic, olive oil, a few grains of cumin and a little lemon.
Ropa Vieja (literally translated to 'old clothes')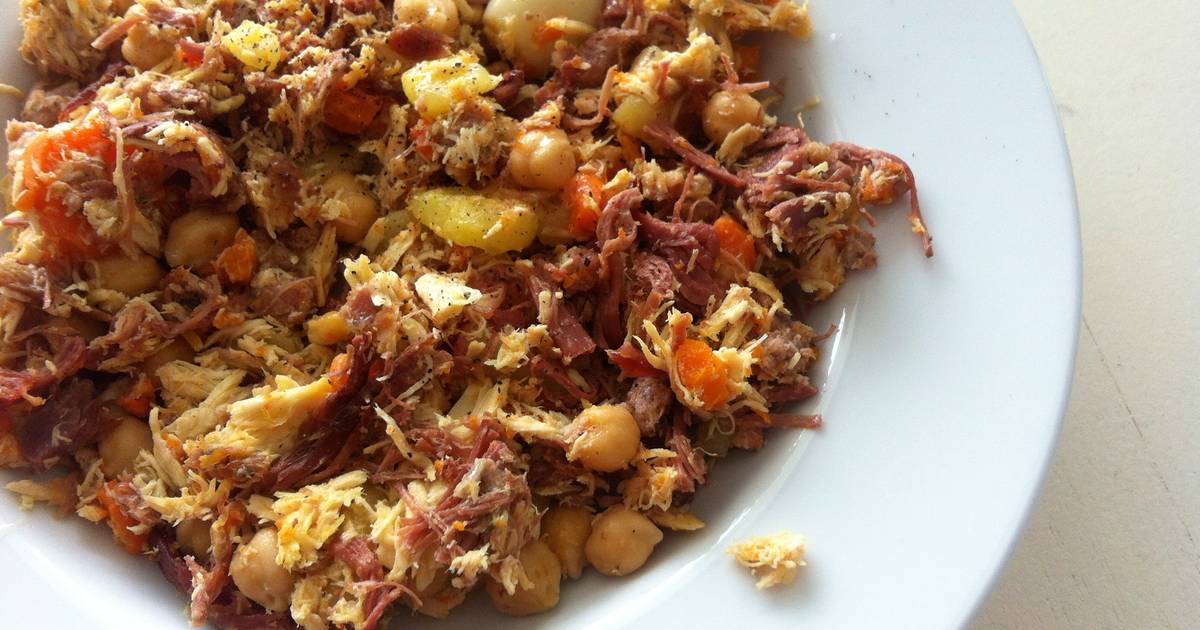 Ropa vieja is a delicious stew that originated as a way to use the leftovers from another traditional dish called the puchero. The meat, vegetables and broth are used to then cook this recipe together with chickpeas. It is one of the star dishes of Canarian cuisine, with some variations in other places around the World.
Lately there is a marine version of the canarian old clothes which is becoming popular, with octopus as the main ingredient.
Gofio escaldado (Scalded Gofio)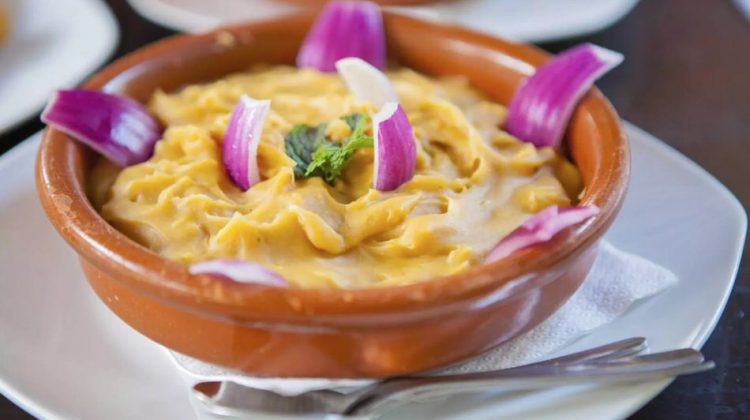 Gofio Escaldado is also a "left-overs" dish in its origin. After preparing broths and chowders, the remaining broth is mixed with gofio. To decorate you can add a sprig of hierbahuerto (mint) and chopped onion which will also serve as a spoon.
Come and enjoy your holidays in one of our hotels in Gran Canaria and you'll enjoy these and many more delicious dishes from the cuisine of the Fortunate islands.